Scroll to choose your favourite version of this iconic dish
Scroll to choose your favourite version of this iconic dish
Do you smell this? It's now time to set your kitchen and do the magic…
Do you smell this? It's now time to set your kitchen and do the magic…
Moroccan flavours
One of our globe's most ancient spice-producing countries honing their craft of subtle and clever flavour balancing for centuries, Moroccan cuisine is intensely flavourful, showcasing some of the top spices our fruitful earth has to offer. World-renowned as a spice and food mecca, Moroccan spices feature in all popular Moroccan food, creating a perfect harmony of sweet and savoury in rich, sumptuous tagines prepared uniquely for this remarkable country. The most well-known and celebrated spice blend is Moroccan Ras el Hanout.[…]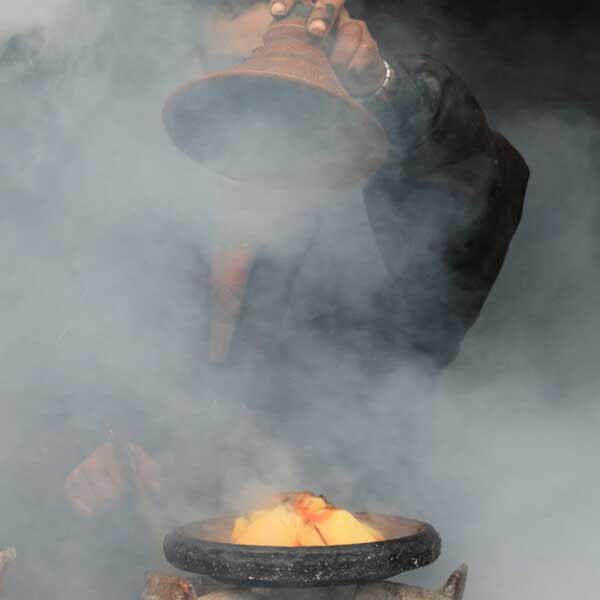 History & influences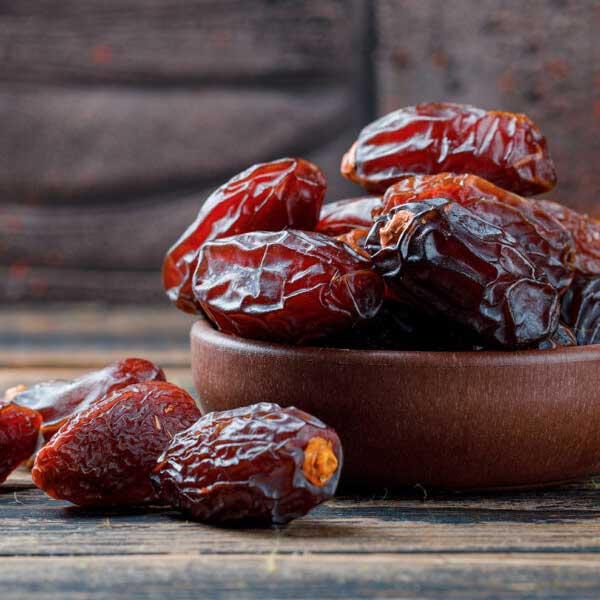 Traditional Moroccan cuisine is known worldwide for its unusual food pairings, exotic flavours, and famed cooking implements. The Moroccan food we see today has been heavily influenced by many cultures and periods in history.
The history of Moroccan cuisine dates back thousands of years with the Berbers forming the dominant ethnic group in Saharan Africa and were responsible for introducing locally grown ingredients into cooking, such as olives, figs and dates. These were predominantly used in the preparation of lamb and chicken and still are today, in the much-loved tagine. […]
What is Moroccan cuisine?
A diverse and vibrant country with strong traditions and a rich food culture, Moroccan cuisine is abounded with spices and unique flavour combinations, honing cooking techniques and centuries-old recipes adopted over its fruitful food history. Set to the west of North Africa on the Mediterranean Sea, Moroccan foods have seen great influence from neighbouring regions throughout the centuries. From fruit and olive trees from the Persians to grains and spices from the Arabs to the art of picking and preserving from Jewish migrants, the fabric of the traditional Moroccan food we see today has been woven over aeons creating a varied and distinct cuisine of mouth-watering flavours.
No dish in Moroccan cuisine is more iconic than the tagine. With a lack of ovens available in households, a round clay dish with a cone-shaped lid to lock in the heat and flavour was created. Soaked overnight in water, the tagine is placed on hot coals with meats and vegetables braising inside until tender and super-fragrant. .[…]
Recipes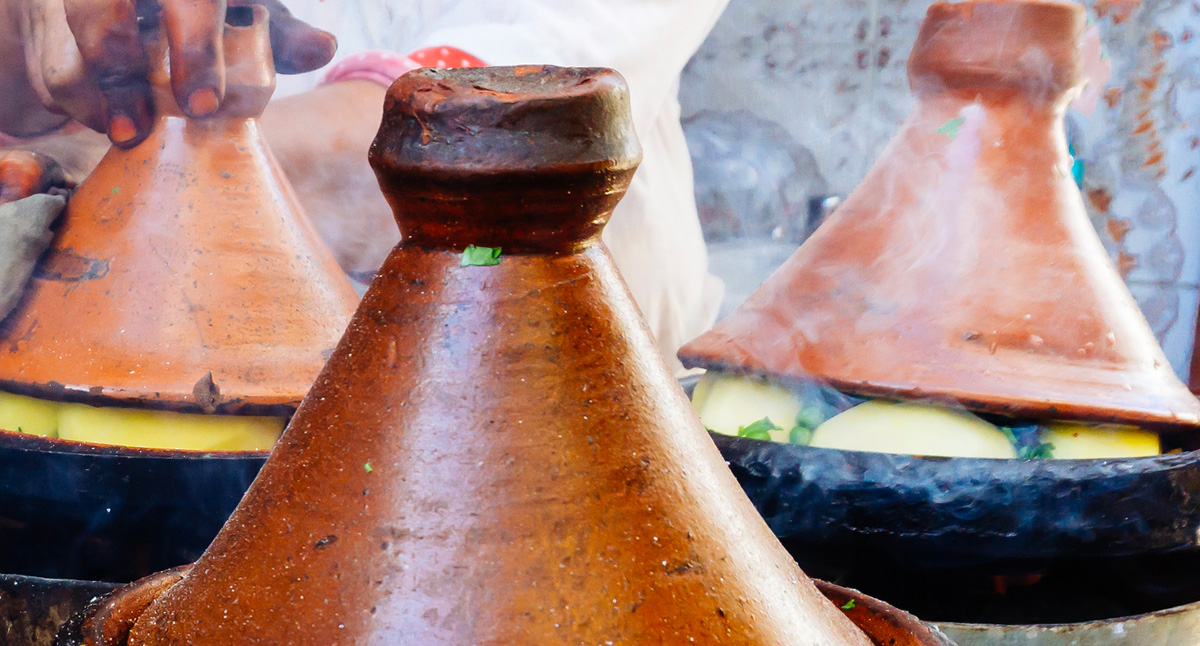 Iconic Moroccan dishes
One of our world's most ancient spice-producing countries, Moroccans have been honing their craft of spice blending for thousands of years and influencing many Moroccan food dishes such as braised Tagines, white bean Loubia and rich Harira soup, all mopped up by mounds of fluffy couscous. Moroccan mint tea, fresh fruit and Chebekia cookies end every meal whilst ice-cold carrot and orange smoothies help combat the effects of the hot climate.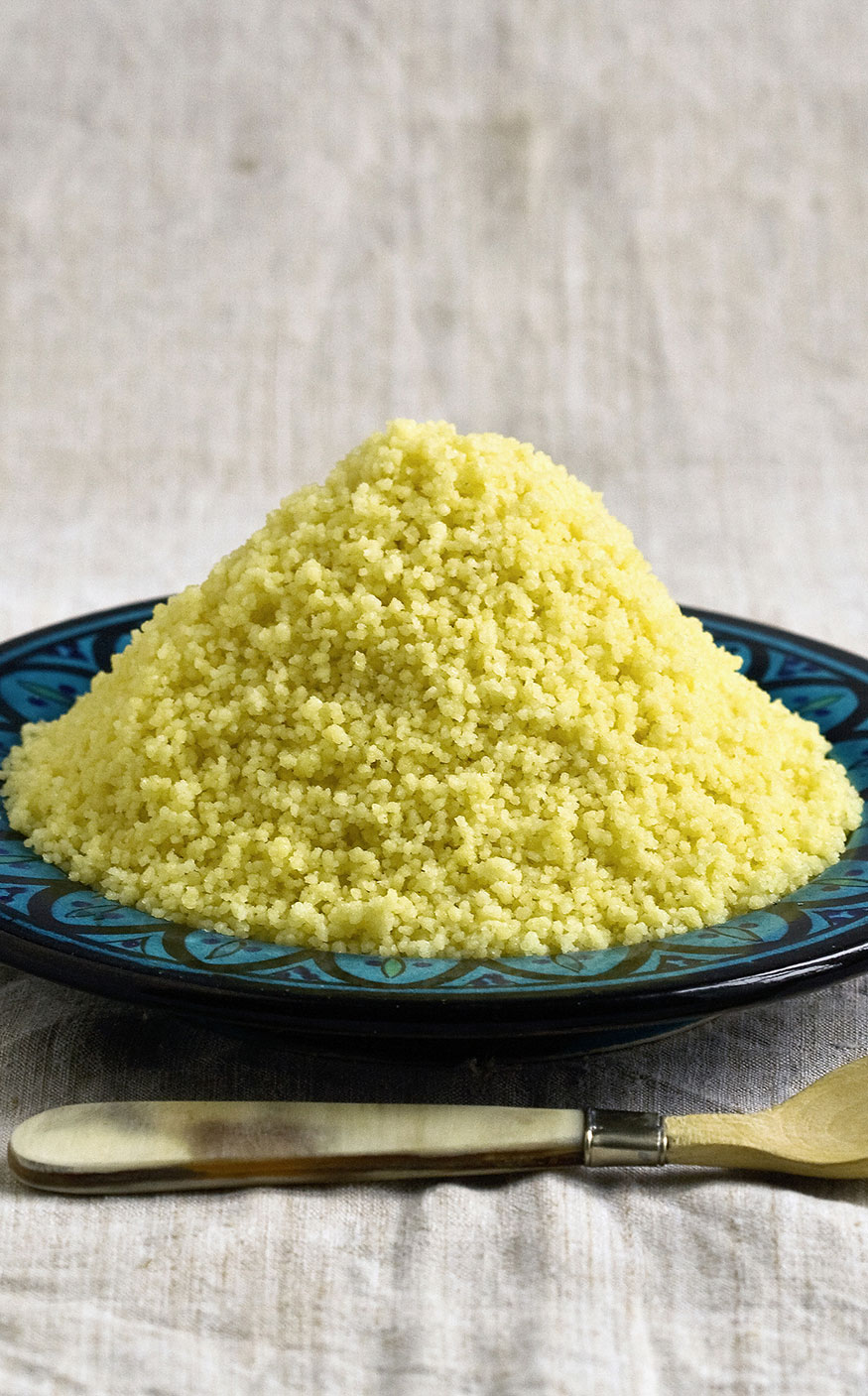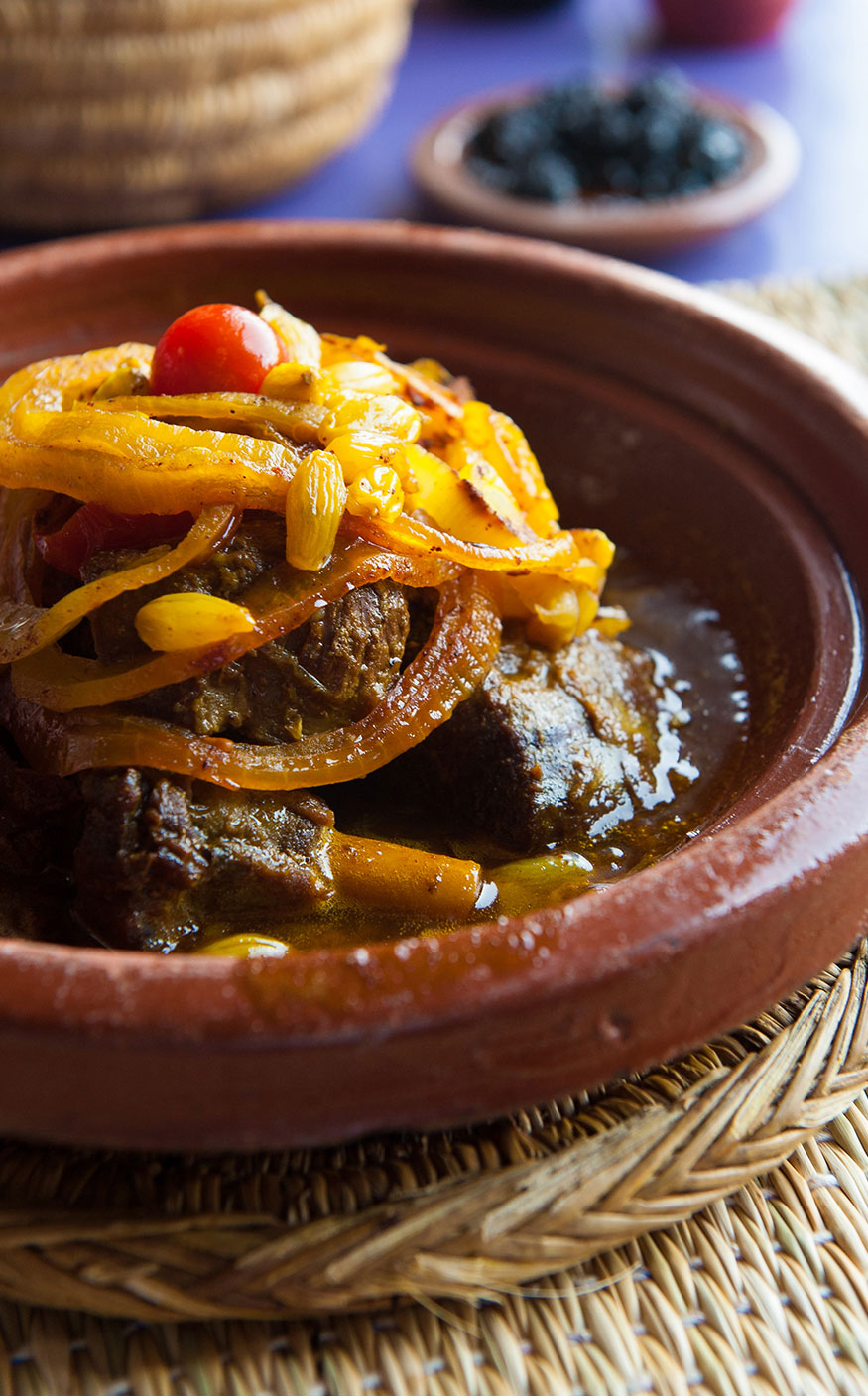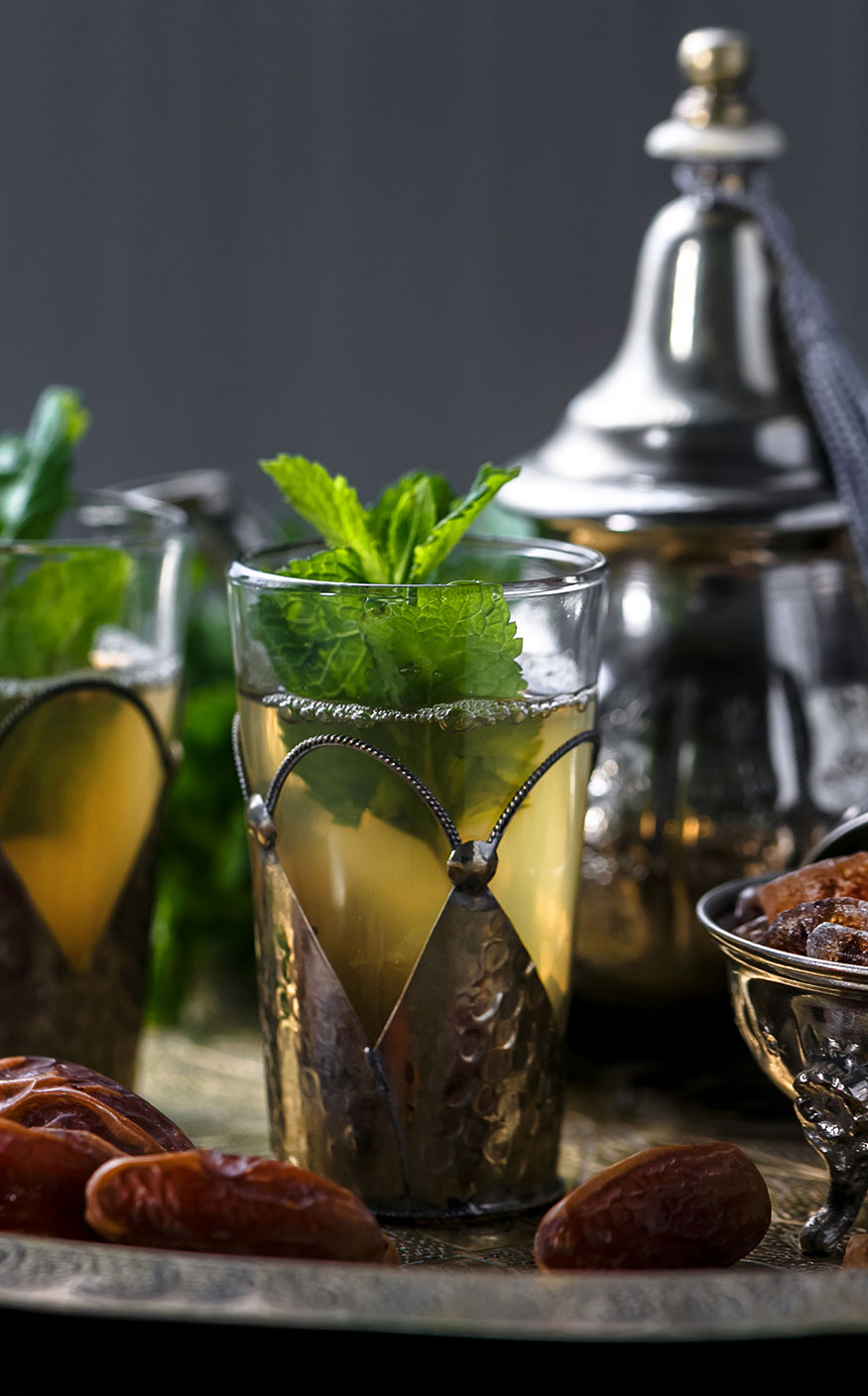 Moroccan Spices
Known for their love of spices, Moroccans pay a great deal of attention to growing and harvesting the best spices for griding. Generations of spice farmers have learned the art of spice producing and mixing, passing it on to the next generation. This is most commonly the case with saffron. Worth more by weight than gold, saffron is the most expensive and highly sought-after spice in the world. 150,000 plants are needed to create just 1kg of saffron. The most prized saffron in the world is obtained from a small town called Taliouine. Not only is it a valuable part of their cuisine, but much of the country's business is also due to growing, producing, and trading in spices.  […]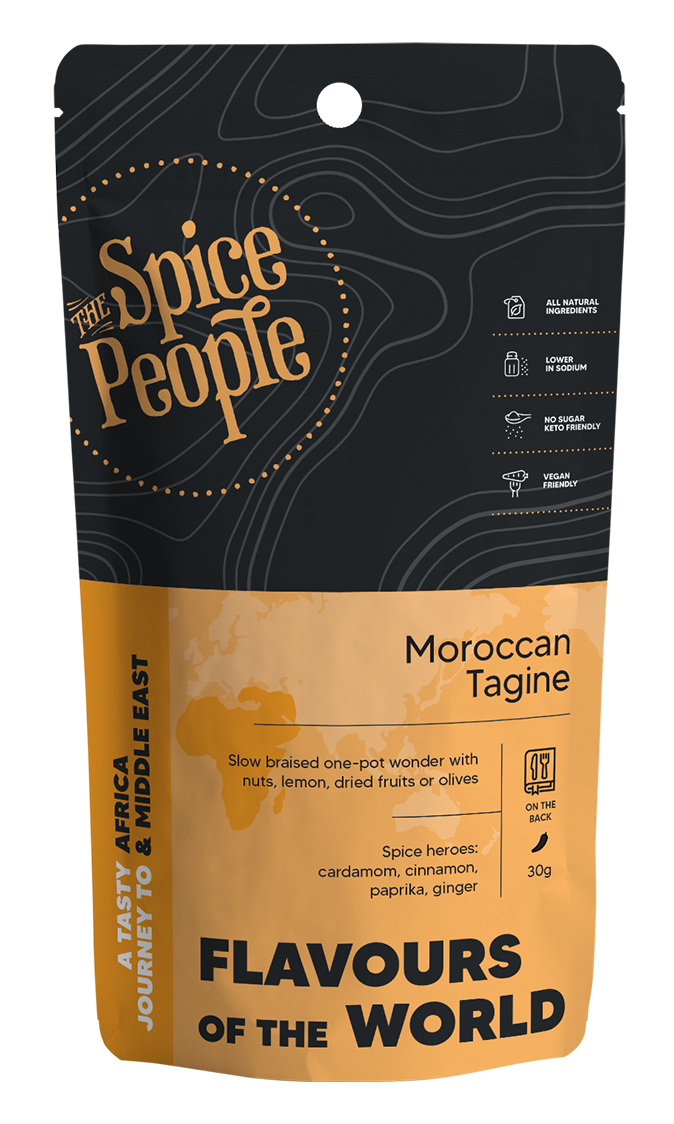 A Tagine is the true taste of authentic Morocco, combining sweet spice elements like nutmeg, cassia, paprika, and allspice blended with savoury notes of sea salt, fennel, caraway, and cumin, and the warm hum from cayenne, turmeric, galangal, and ginger. These are offset by the heady fragrance of coriander. Whether it be meat, veg, fish or poultry, bring the flavours and aromas of a Moroccan Souk straight to your kitchen.
Flavours of the world
Comprising South-eastern regions of Asia, Australia, New Zealand and neighbouring islands, Australasia is a melting pot of cultures, countries and cuisines. From the homegrown, earthy flavours of native Australian cuisine to the zesty, spicy and fresh tastes of Southeast Asia, this culinary region incorporates a wide range of herbs and spices and is all about celebrating what's local.
Wholesale
Comprising 6 regions, 12 countries (and counting) and 48+ delicious accompanying recipes, Flavours of the World opens the doors to the world's spice route and allows everyone to explore the countries and cuisines that have shaped our culinary world today. Sugar-free, filler-free, and preservative-free, our blends make cooking wholesome, authentic meals from around the globe simple and affordable; offering step-by-step instructions and a catalogue of free online recipes to suit all diets.
Want to level up your meal-solutions offering and stock Flavours of the World in your stores? Visit our Wholesale Page to fill in your details and we'll be in touch.