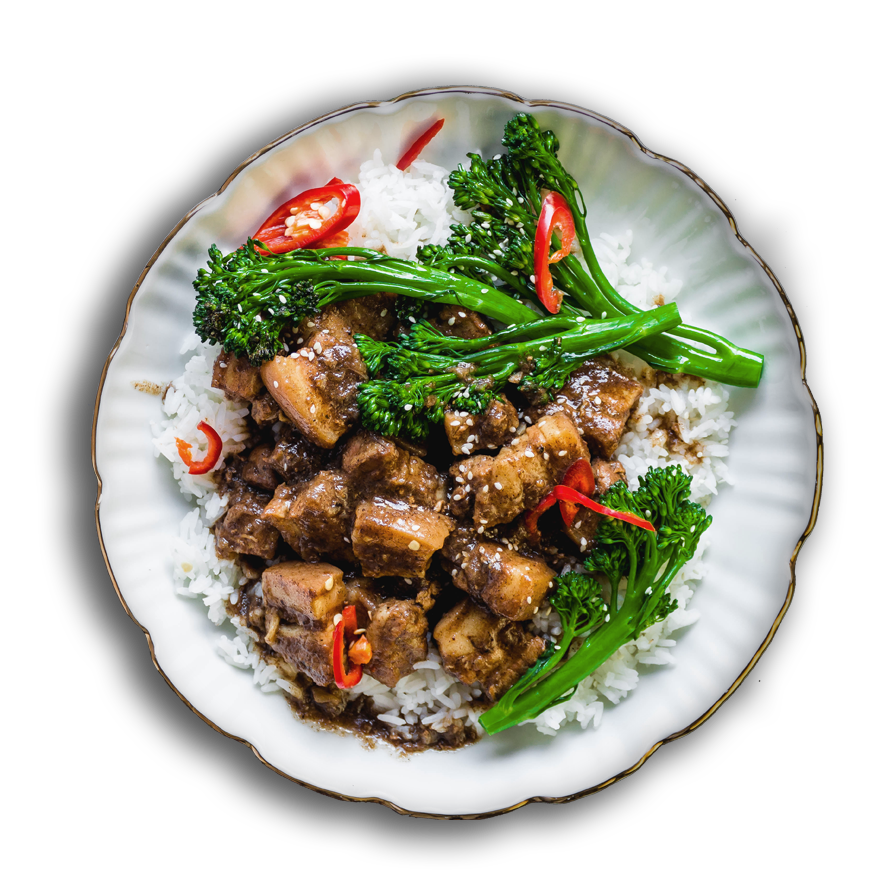 WHAT YOU NEED
1/2 pkt (11 g) Chinese spice
500 g skinless pork belly*
1 onion, chopped
1 tbsp soy sauce
1 tbsp oyster sauce
1 tbsp apple cider vinegar
1 tbsp honey
1 cup chicken stock
HOW TO MAKE Brown pork belly, 5 min each side. sauté onion, 5 min. Add spice, sauté 1 min. Add oyster and soy sauce, vinegar, honey, stock and bring to a boil, simmer 60 min. Remove pork and continue simmer sauce to reduce to a thick sauce.
HOW TO SERVE
Serve with steamed rice and stir fry asian greens*.
HINTS & TIPS
SIDES & CONDIMENTS
Asian stir fry greens*:
100 g broccolini,
2 bok choy,
1 fresh chilli,
1 tbsp sesame seeds,
1 tbsp sesame oil,
2 tbsp soy sauce,
2 tbsp maple syrup
Saute greens with chilli, sesame oil, soy sauce and maple syrup and sprinkle with sesame seeds.
SWAPS & ALTERNATIVES*
VEGGIE COMBO
Any combination of asian vegetables can be used
Reduce meat: 250 g pork + 250 g mushrooms
ALTERNATIVE
Replace skinless pork belly* with pork chops or pork shoulder cubed
LIKE THIS RECIPE? SHARE IT ON…
ORIGINS
The traditional dish was created during the Three Kingdoms Period from 200-280 AD as a warming meal cooked in a spiced stock over hot coals for the cold winter months. Loved for many generations to follow, including the Emperors of the Qing Dynasty, this special Chinese dish is still a staple worldwide today.