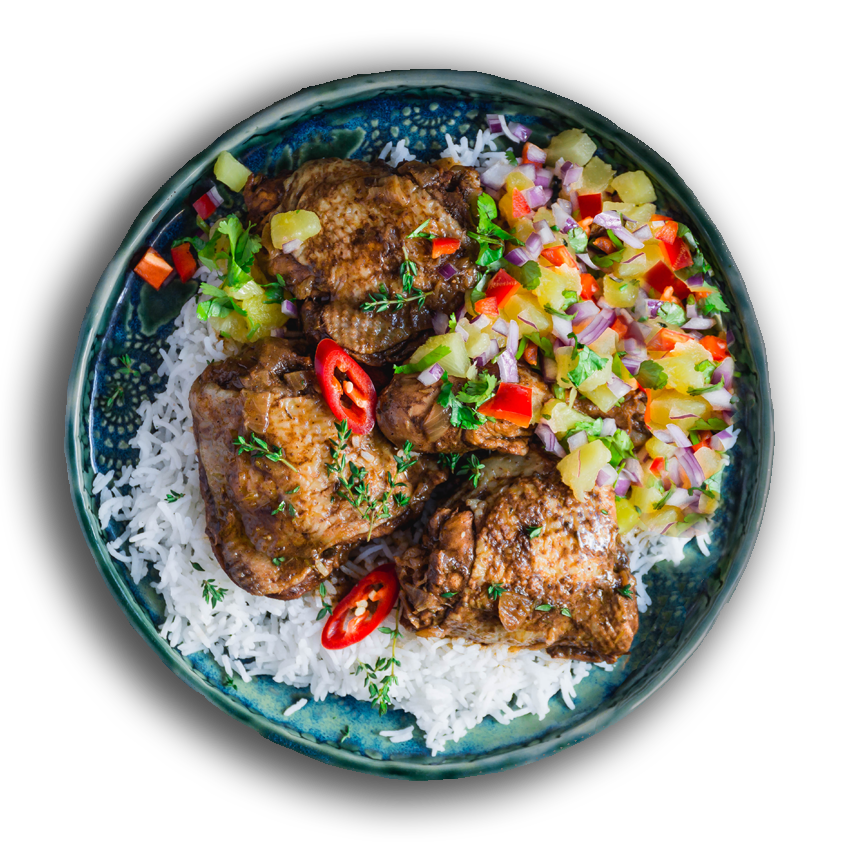 WHAT YOU NEED
1/2 pkt (17 g) Jamaican spice
500 g chicken drumsticks
1 onion, chopped
1/2 tbsp brown sugar
2 tbsp white vinegar
1 1/2 tbsp soy sauce
1/4 cup orange juice
1/2 lime, juiced
HOW TO MAKE Combine all ingredients except onion in a bowl with 2 tbsp olive oil. Let marinate 30 min Sauté onion, 5 min. Add marinated chicken pieces, sauté 5 min. Return remaining marinade and simmer until chicken falls off the bone. Approx 60 min.
HOW TO SERVE
Serve with cooked rice, pineapple salsa* and garnish with fresh coriander.
HINTS & TIPS
SIDES & CONDIMENTS
Pineapple salsa*:
100 g pineapple
1/2 each diced onion, fresh chilli and capsicum
Mix all ingredients into a bowl with the juice of 1/2 lime and toss to coat.
Set aside for serving.
SWAPS & ALTERNATIVES*
VEGGIE COMBO
Omit salad and rice and serve with steamed potatoes and broccoli.
REDUCED MEAT
250 g chicken + 200 g cooked chickpeas.
LIKE THIS RECIPE? SHARE IT ON…
ORIGINS
Like most Caribbean islands, Jamaican foods are derived from many different settlement cultures, including British, Dutch, French, Spanish, East Indian, West African, Portuguese, and Chinese. The origins of jerk pork can be traced back to the pre-slavery days of the Cormantee hunters of West Africa through the Maroons, who were Jamaican slaves that escaped from the British during the invasion of 1655. It was traditionally cooked in open-ground pits.