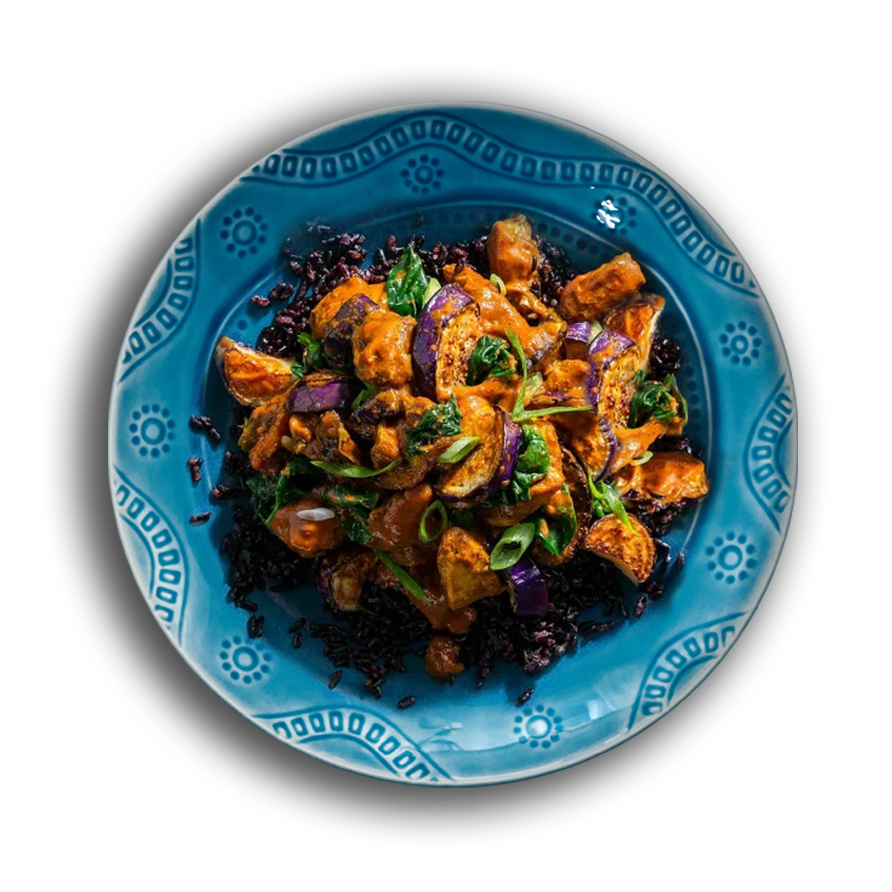 WHAT YOU NEED
1/2 pkt (15 g) Malay spice
500 g Chicken thigh, chopped
1 eggplant, cubed
1 onion, chopped
2 tsp kecap manis*
2 tbsp white vinegar
1 tsp brown sugar
400 ml coconut milk
HOW TO MAKE Sauté onion, 5 min. Add spice, sauté 1 min. Add chicken and eggplant sauté, 5 min. Mix vinegar, sugar and kecap manis with coconut milk and add to dish. Cover and simmer 20 min.
HOW TO SERVE
Serve with steamed rice, pineapple and cucumber achar*
HINTS & TIPS
SIDES & CONDIMENTS
Pineapple cucumber achar:
1 tbsp white sesame seeds toasted
100 g pineapple pieces
100 g cucumber sliced
2 tsp sweet chilli sauce
1 tsp vinegar
1 tsp sugar
Mix all ingredients together in a bowl.
SWAPS & ALTERNATIVES*
VEGGIE COMBO
Omit salad and serve with steamed broccoli.
Reduce meat: 250 g chicken + 200 g cooked chickpeas.
ALTERNATIVE
Kecap manis = sweet soy sauce
LIKE THIS RECIPE? SHARE IT ON…
ORIGINS
According to ancient archives, the origins of this world-renowned dish can be traced back to the Minangkabau community of Padang in West Sumatra and were created, according to ancient archives, as early as 1000-1200AD when Indian traders would bring spices across the Bay of Bengal. The Minang people then began migrating to the Malaysian Peninsula to trade, bringing this spice-rich curry with them.