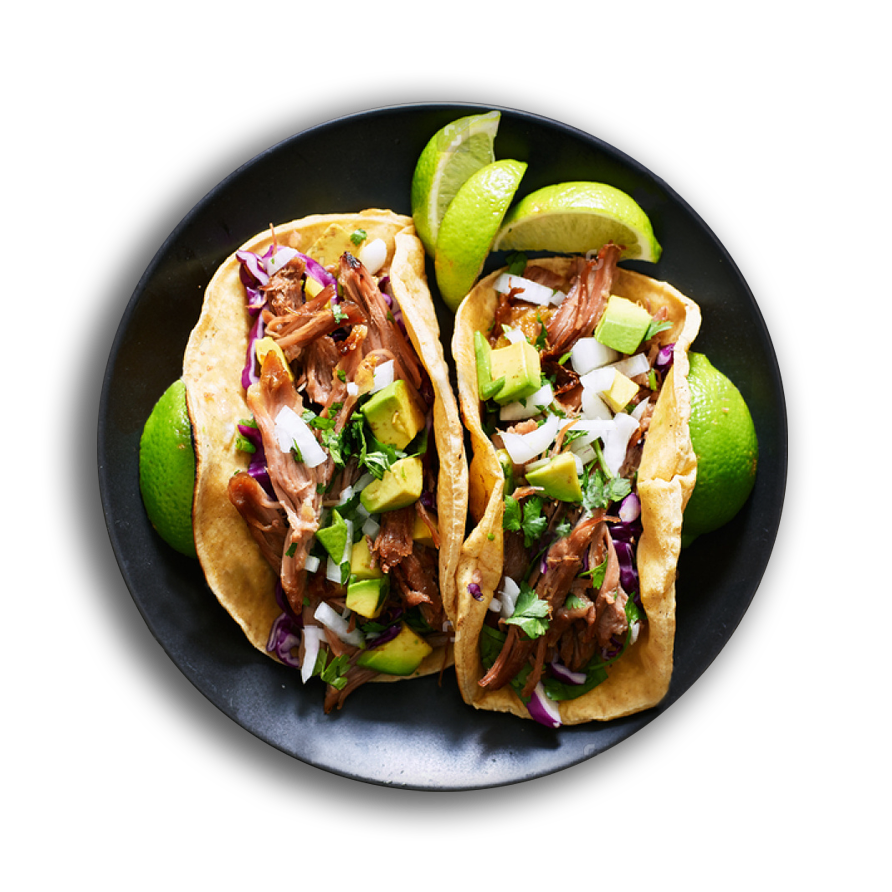 WHAT YOU NEED
1/2 pkt (15 g) Mexican spice
500g pork shoulder without rind *
1 onion, chopped
1/2 cup orange juice
1 avocado, sliced
1 lime, quartered
6-8 tortillas
HOW TO MAKE Sauté onion, 5 min. Add spice, sauté 1 min. Add pork, and orange juice, simmer 90 min until pork falls off the bone. Remove the pork, shred and sauté on high for 2 min each side to give a crispy finish. Warm tortillas in microwave and load with avocado, and pork.
HOW TO SERVE
Serve with tomato salsa, a squeeze of lime or a sprinkle of cheese.
HINTS & TIPS
SIDES & CONDIMENTS
Leftover pork is great to use for fried rice, or served with a sweet potato mash and steamed greens.
SWAPS & ALTERNATIVES*
VEGGIE COMBO
Replace avocado with a sweet potato mash.
Reduce meat: 250 g pork chops + 200 g black beans.
ALTERNATIVE
Replace pork shoulder with pork chops, lamb shanks or chicken drumsticks.
LIKE THIS RECIPE? SHARE IT ON…
ORIGINS
The origins of the Burrito date back to the early 1900s where, during the Mexican Revolution, a vendor named Juan Mendez traded on the streets of Ciudad Juarez. To keep his produce warm whilst transporting it on his donkey-drawn cart, he wrapped it in a tortilla and the burrito, or 'little donkey', was born. A burrito, was said to have consisted of a rolled tortilla filled with meat and other ingredients. However, in other areas of Mexico, similar dishes were known as a cocito and taco, respectively.