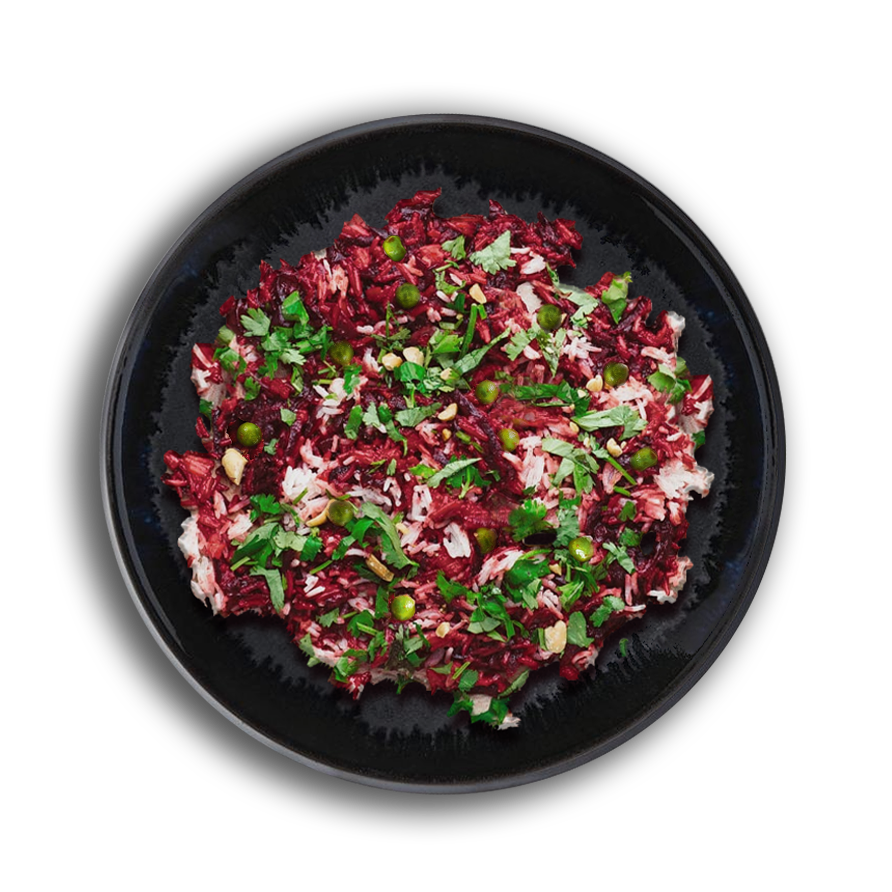 WHAT YOU NEED
1/2 pkt (17 g) Pakistani spice
200 g tin of chickpeas
1 onion, chopped
200 g sweet potatoes peeled and cubed
200 g cooked beetroot, cubed
1/2 cup frozen peas
200 g natural yoghurt*
1/2 – 1 cup of vegetable stock
2 tbsp lemon juice
2-3 cups of rice par cooked
HOW TO MAKE Sauté ½ onion, 5 min. Add spice, sauté 1 min. Add sweet potatoes, yoghurt, beetroot, peas and chickpeas and stock. Simmer 10 min. Stir in peas Fry rest of the onion till crispy and golden. Set aside. Spread par cooked rice on top of vegetables, sprinkle with onion, turn off heat and cover, 20 min.
HOW TO SERVE
Season with lemon juice and garnish with fresh mint and coriander leaves.
HINTS & TIPS
SIDES & CONDIMENTS
Add 2 tbsp of cashews and currants into the rice when cooking for extra texture and flavour. The best condiments are eggplant or tomato kasundi.
SWAPS & ALTERNATIVES*
VEGGIE COMBO
Add 1 capsicum, and 200 g green beans for extra crunch.
ALTERNATIVE
Use 200 g coconut milk instead of yoghurt*
LIKE THIS RECIPE? SHARE IT ON…
ORIGINS
Deriving from the Persian word 'Birian' meaning 'fried before cooking', Biryani was created by the Queen of the Mughal Empire, Mumtaz Mahal, in the 1600s to feed undernourished Indian Soldiers. To create a sustaining meal of carbohydrates and protein, a layered dish of golden fried rice and spiced meat was made. Since its conception, many variations have arisen with additions like fruit and nuts, particularly in Pakistani regions.