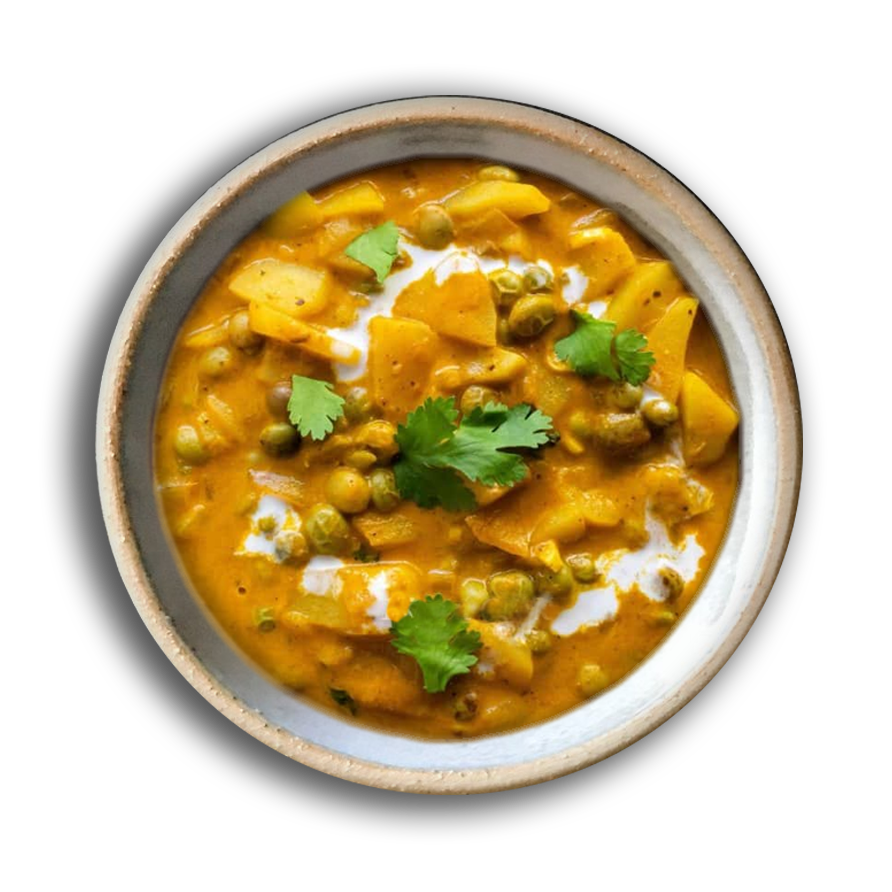 WHAT YOU NEED
1/2 pkt (17 g) thai spice
250 g sweet potatoes cubed
200 g new potatoes cubed
1 onion, chopped
1/2 cup frozen peas
1 cup of cherry tomatoes
1/2 tbsp soy sauce or oyster sauce
1 tsp brown sugar
1 tsp tamarind paste or juice 1/2 lemon
400 ml coconut milk
HOW TO MAKE Steam the sweet and new potatoes, until 3/4 cooked, drain and set aside. Sauté onion, 5 min. Add thai spice, sauté 1 min. Add, tamarind, sugar, soy sauce and coconut milk. Bring to the boil, simmer 10 min. Add par cooked potatoes, cherry tomatoes and peas, simmer 5 min.
HOW TO SERVE
Serve with steamed rice, 2 tbsp crushed peanuts and fresh coriander leaves.
HINTS & TIPS
SIDES & CONDIMENTS
Fresh Thai salad:
1 cucumber sliced
1 carrot grated
100 g snow peas
1 tbsp each vinegar, fish sauce, lime juice
2 tbsp fresh coriander and mint leaves, chopped
Mix all ingredients together in a bowl.
SWAPS & ALTERNATIVES*
VEGGIE COMBO
Swap sweet potatoes for 250g button mushrooms or 1 cup cooked chick peas for a richer protein diet. Add at step 3.
ALTERNATIVE
1 tsp tamarind paste = 2 tbsp lime/lemon juice
LIKE THIS RECIPE? SHARE IT ON…
ORIGINS
With many theories linked to the origins of this popular Thai dish, the most common one dates back to the 17th Century when ties between Southern Thailand and nearby Malaysia were strong, and many recipes and ingredients were exchanged. During this time, the Persian merchant Sheik Ahmad Qomi brought a similar recipe to the royal court of Ayutthaya. From here, both dishes were combined, and this delicious curry was created.