The range of wholesale spices
we offer
It starts with flavour………
Comprising 6 regions, 12 countries (and counting) and 48 delicious accompanying recipes, Flavours of the World opens the doors to the world's spice route and allows everyone to explore the countries and cuisines that have shaped our culinary world today.
We have reimagined the customer journey  – shaping our products to cater to the ever-growing demand for choices to have more variety along with a wide range of dietary preferences, meal portion sizes all included at the click of a QR code.
Quality spices for home and
restaurant cooking
A rise in the everyday home cook has seen smarter, savier shoppers demanding high-quality and more sophisticated options from supermarket shelves when it comes to at-home meal solutions. Noticing a gap in the Australian market, we invested in scouring the world's markets to deliver the best of our globe's dishes to Aussie shoppers quickly and easily healthy, with loads of variety, affordable and oh so easy, we believe FLAVOURS OF THE WORLD fills this void and our blends are a must-have for every cook's pantry.
Key Wholesale drivers creating permanent shifts in buyer behaviour and expectation
New way is to have a Flexitarism approach to cooking
Importance of supporting local Australian made
Millenials enjoy being surrounded by different cultures influencing their food purchases
Growth in herbs and spices consumption is expected to rise by 8% pa as consumers find new ways to use spices that goes beyond flavouring
Consumers are wanting more natural ways to flavour their food which are healthy with no gluten, sugar additives and preservatives
Why choose us
to stock wholesale spices?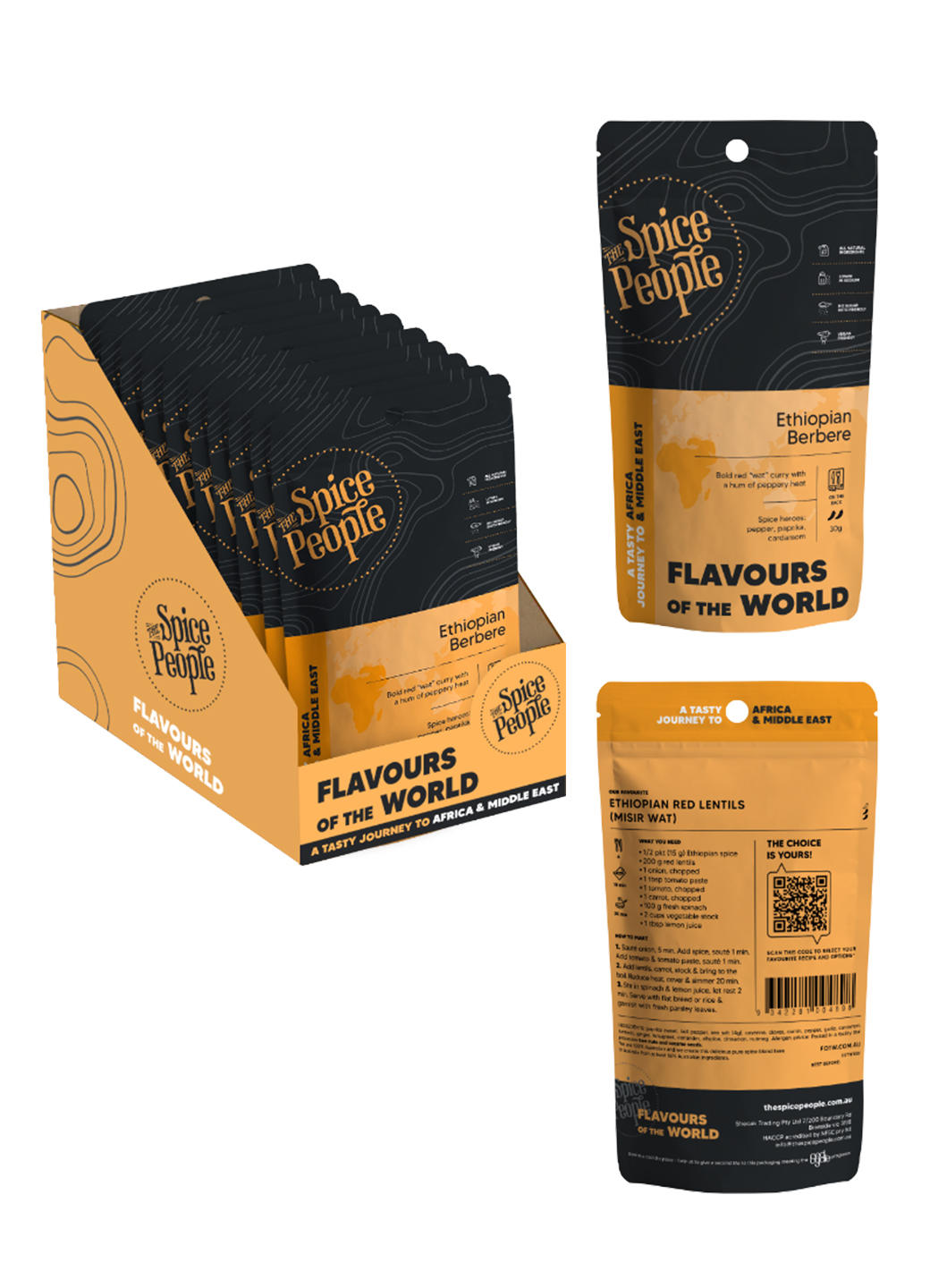 GLOBAL FIESTA OFFER
Dinner will never be boring with our large range latitude
FLEXIBLE RECIPE CHOICES
Our unique QR code portal allows users to choose their best option
HEALTH APPEAL
100% pure natural herbs and spices with zero nasties
SUSTAINABLE
Handy Resealable packaging for freshness and zero waste
PANTRY ESSENTIAL
Minimize space & ingredients to cook multiple cuisines with ease
AFFORDABLE
Multi use, cook for 1 or 8 people, under $5.00 rrp
STAND OUT SHELF PACKAGING
Bright and bold colours will bring joy to your shelves
100% OWNED AUSTRALIAN COMPANY
All our products made with love in Melbourne
HACCP ACCREDITED
48 exciting and tasty chef worthy dishes using quality spices for the passionate home cook
We want you to be a happy wholesale stockist
Flavours of the world levels up the meal base category in your store. Our range is currently stocked in independent supermarkets IGA and Foodworks as well as local fresh food providores, and gourmet butchers. It is available in Australia wide through our network of distributors. Fill in the contact form and one of our friendly staff will be in touch to assist you.
We focus on the quality, origin and sources of the spices, the human stories behind them and the experiences arising from them