Liz Edgecombe &
The Spice People…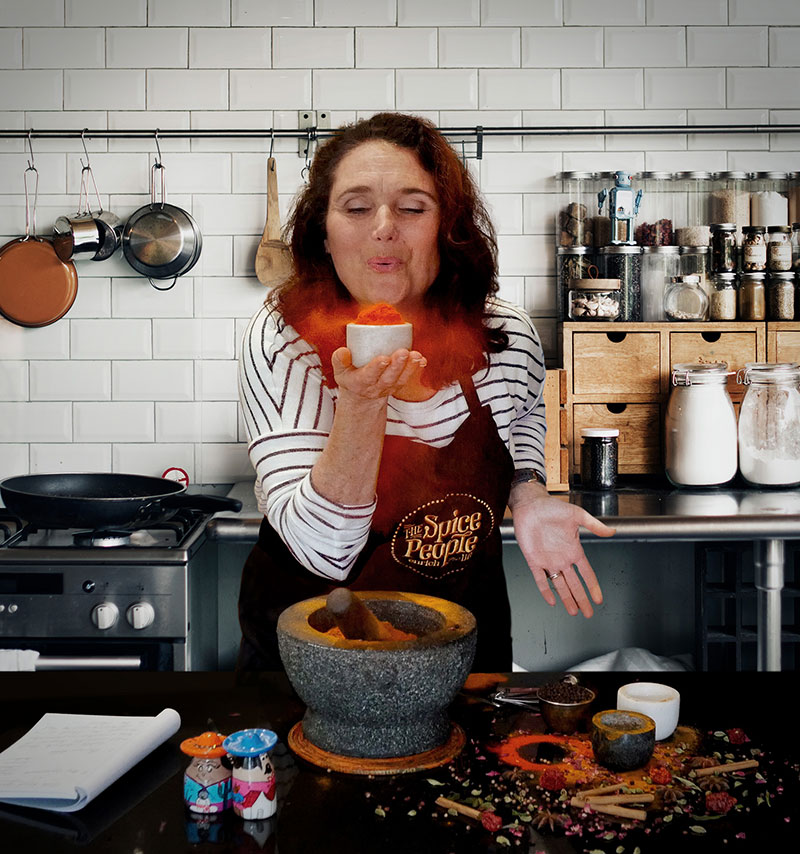 "It's not only about adding spice to life, it is about bringing people together, beyond physical distances, through the joy of a fulfilling table, through the
emotional language of food"
Liz Edgecombe is an avid spice evangelist and shares her love of food through flavour, scent and taste. Based in Victoria, Liz created The Spice People in 1997, to share her dedication to the spices of the famed spice route and to connect people from all walks of life through a collective commitment to exploring cuisines and cultures through spice. 
But Liz is more than just a spice explorer. Liz is a business mentor, single Mum, advocate for women in business and in her own right, a successful businesswoman with a growing team of staff, working to encourage and support other women to become business owners and leaders.  Liz grew her business while raising her two children, focused on creating a range of more than 200 spices to elevate the ordinary to the extraordinary, offering an enriching culinary and cultural journey connecting people to cuisine.
Inspiring home cooks to challenge themselves, Liz created Flavours of the World, a range of delicious and aromatic spice foundations to create memorable meals and taking home cooks on a journey to the far-flung corners of the world, inspired by the spice route, and unlocking new flavour experiences in a simple and affordable way.
Thanks to her innate curiosity, a wealth of knowledge, successful business and frequent appearances on TV's My Market Kitchen, Liz is today regarded as one of Australia's most respected authorities on spice and has become a spice sage to many.
We are passionate
about enriching life.
At The Spice People, our passion for great food and mission to teach the wonderful benefits of herbs and spices has led us to create and harness a community of foodies. Our ethos is all about introducing spices of the world into everyday cooking and making it simple, easy, affordable, and fun. We have a thirst for adding a bit of extra spice to life and seek to provide you with the world's most loved and recognised flavours.
The Spice People isn't just our name, it's infused in the way we do things.  We are an all-encompassing brand striving to bring people and cultures together by delivering the world to your table. Food and cooking is the universal language binding us all together like nothing else and is something that should be celebrated every day with the freshest and best ingredients our brilliant earth has to offer.
We believe in fresh
ingredients, simply
prepared.
Our catalogue of recipes is all about fresh ingredients, flavoured with pure herbs and spices that are simply prepared, creating memorable dishes and inspiring you to discover your inner home cook.
We produce products transcending cultures and cuisines, and offering a one-stop shop to cook the flavours of the world in your home,  providing you with the know-how and tools to do so.
We like to think differently and believe spices have the power to transform and open up new experiences. Our customer service experience extends well beyond the purchase of a product – we are here for you every step of the way of your culinary journey with recipes, tips, and tricks
Margie
Production
PHILLLIPINNES
Sophia
Digital marketing
INDONESIA
Jai
Sales merchandiser
AUSTRALIA
Julieta
Production
PHILLLIPINNES
Our origins
are colorful…
Harsha
Production manager
SRI LANKA
Alex
Custoner service
FRANCE
Like the journey
we invite you to!
Olivia
Food writer
AUSTRALIA
Dhanya
Food photogtapher
INDIA